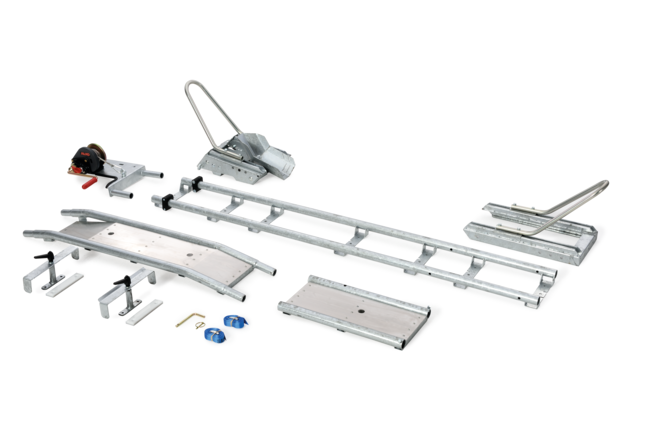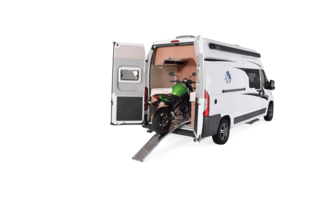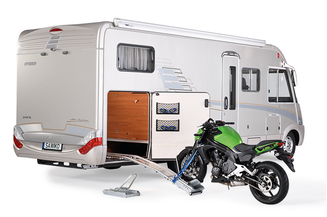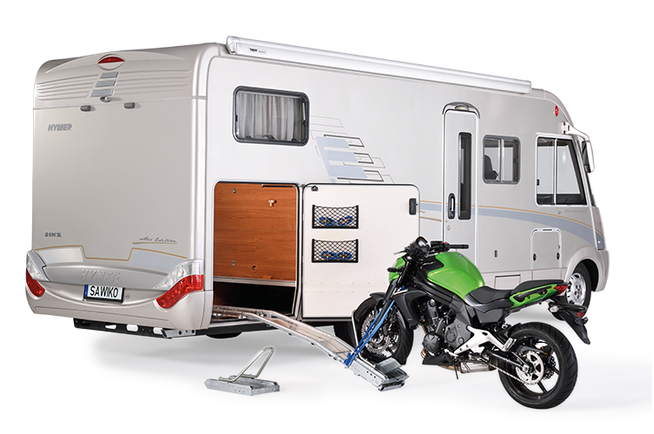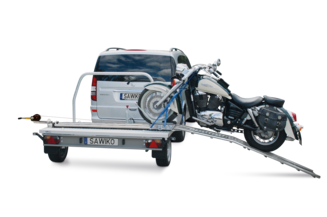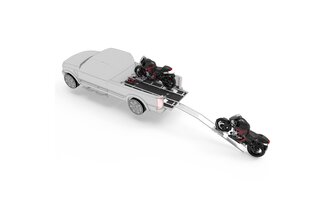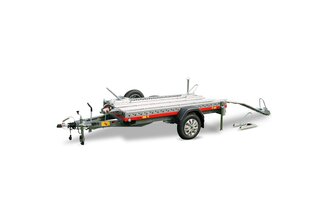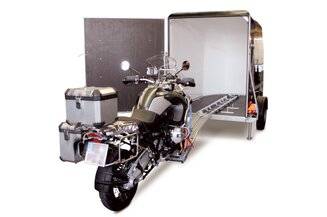 Description
Motorbike loading aid
Very versatile
With our loading system, scooters or even heavy motorbikes can be loaded easily, quickly and safely without any problems. The motorbike or scooter is simply driven into the front wheel rocker on the sled. There is no need for time-consuming manoeuvring and cumbersome lashing on the loading area. The front wheel is secured to the ground. You can then load your motorbike without another person, without much effort, with the help of the electric cable winch or with the smooth-running manual cable winch. Due to the round tubes on the sides of the rail system the slide glides over the drive-up rail without any problems. It is quickly stowed away thanks to its interlocking individual parts.
Individual components
Create the right configuration for you individually. The necessary assembly material is included with all components. The system is suitable for platform and box trailers, camper rear garages, vans and pick-ups.
Your advantage
Electric cable winch with standard cable-connected remote control
Smooth-running AL-KO manual cable winch on trailer version
Curved drive-on rail, consisting of 2 individual parts, can be loaded up to approx. 370 kg
Front wheel rocker on slide
Loading height for the rear garage adjusted to approx. 620 mm
The motorbike can be pulled a few centimetres into the springs before loading
Drive-on ramp universally adaptable to other loading heights
Max. Rear tyre width 185 mm. Other tyre widths possible with optional components
Accessories
Rails
Rail 500 mm
Rail 1100 mm
Rail 1990 mm
Rail&.nbsp;2190 mm
Cover plate 600x165 mm
Rear tyre elevation for tyres 180 - 380 mm
Ramps
Ramp curved
Ramp 850 mm
Ramp 1100 mm
Ramp 1600 mm
Transport support for ramp
Ramp support
Slide front tyre
Slide tyre width max 180 mm
Slide for 1600 mm
Slide front tyre width max 180 mm
Slide for Scooters/Scooters
Wheel support Rear tyre
Rear tyre support up to max. 180 mm
Rear wheel support up to max. 250 mm
Rear Wheel Receptacle Scooters/Scooters
Winches and Accessories
Winch 6 metre strap incl. holder
Winch 10 metre nylon rope incl. holder and 90 degree angle
Winch 10 metre nylon rope incl. holder. Ground holder
12 V electro winch incl. holder and wired remote control
Radio remote control incl. receiver
Middle pulley
Outer pulley
90 degree angle adapter incl. accessories