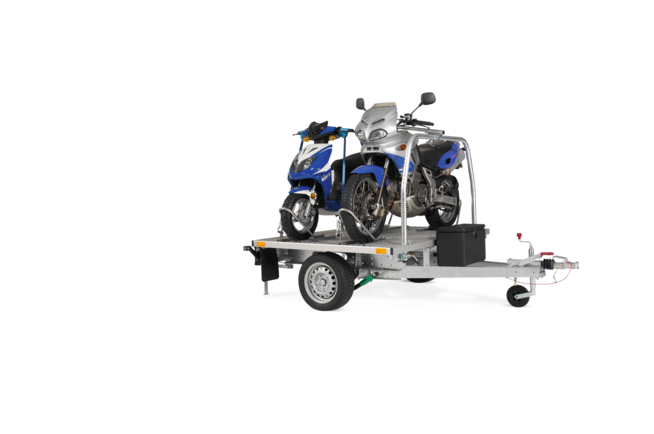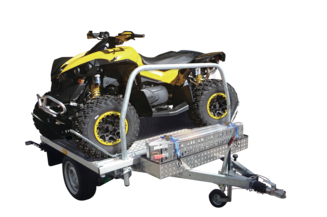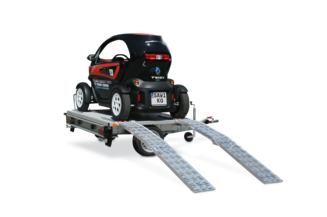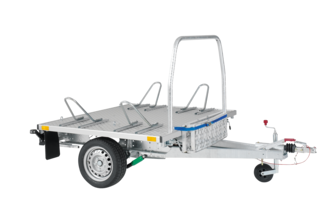 Description
WHEELY DUO
Whether you want to transport 2 motorcycles or a heavy quad, the WHEELY Duo can be adapted to your needs with various frame sets just like the WHEELY
With the support feet fitted as standard, as with the little brother WHEELY, there is also the option of placing the WHEELY Duo in an upright position. Preparation for drop sides or box bodies has also been thought of in this version. Preparations for storage options such as spare wheels or storage boxes are already provided as standard under the platform.
For an additional charge, you can get the WHEELY Duo with a permissible total weight of up to 950 kg. As standard, the WHEELY-Duo has a total weight of 750 kg with a tare weight from 280 kg. Ideal also for large quads.
The WHEELY Duo can also be adapted to your needs with various frame sets and accessories.
Your advantage:
A lot of accessories to use the WHEELY universally
Suitable for up to two motorcycles
Large payload
Braked - Gross vehicle weight 950 kg
Unbraked - Gross vehicle weight 750 kg
100 km/h approval
Scaffolding kits:
Set-up kit for 2 scooters
Set-up kit for 2 motorcycles
Motorcycle drive-up aid
Motorcycle drive-up aid - Set-up kit for 2. Motorbike
Set Twizy or Quad