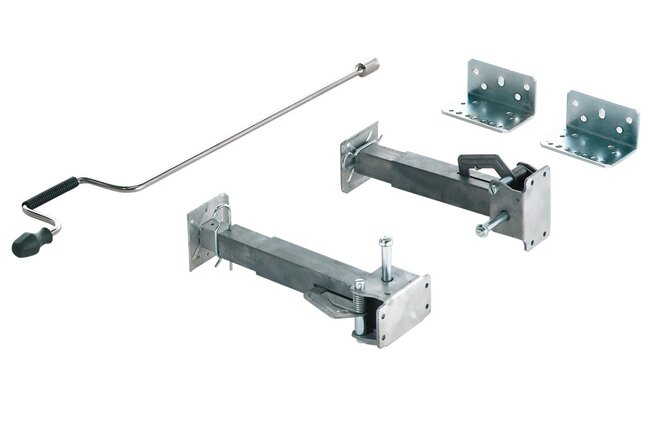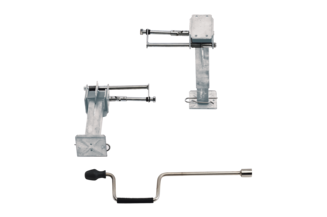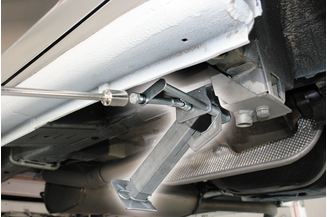 Description
MOCA - the manual support system
For the rear axle with universal mounting
Our highly demanded manual support system enables the support of most campers. MOCA has a maximum lifting capacity of 500 kg per support.
Easily mounted
Two supplied universal mounting adapters are simply attached to the vehicle frame at a suitable location. The support (available in two lengths) is screwed onto these adapters. With the help of a plug-in system, floor unevenness can be quickly and effectively levelled out. The supplied crank is put on the drive shaft and the MOCA prop can be cranked down at a right angle.
MOCA Front Axle Supports
Our Moca front axle supports differ from the normal support by the standard adjustable cardan shaft. This ensures proper handling.
Your advantage
Lifting force 500 kg per prop
Protected swivel mechanism
Hot-dip galvanised prop element
Extended crank, 850 mm
With universal fixing adapter
Scaffolding sets
2 MOCA props uni for 290 - 490 mm
2 MOCA&Supports for 330 - 530 mm
2 MOCA Supports for Euro-Chassis 280/290 - Front Axle
2 MOCA Supports for Euro-Chassis 230/244 - Front Axle
2 MOCA Supports for Ford Flat Bottom Chassis from 2003 onwards - Front Axle
Other Support Types for Rear Axle on request
MOCA - the manual support system