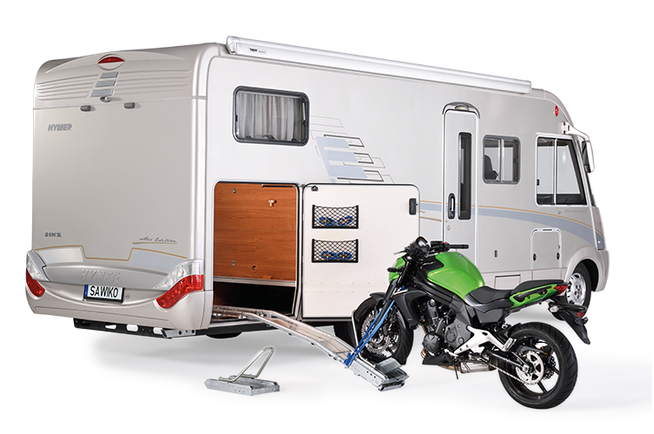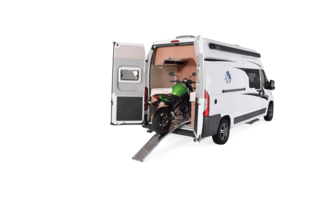 Description
Rear garage pull-in for motorbikes
Motorbike easier to load in the camper rear garage
Your motorbike or scooter is simply driven into the front wheel rocker on the sledge and lashed there. This saves you the hassle of securing it in the rear garage. You can safely load your motorbike without another person. With the help of the electric cable winch, your machine can then be pulled into the rear garage of your camper. Due to the round tubes on the sides, the carriage glides over the drive-up rail without any problems. It is quickly stowed away thanks to its interlocking individual parts.
Retrofitting no problem
Retrofitting in a van or on a trailer is also no problem.
Your advantage
Electric winch (noise level approx. 94dB)
Wired remote control. Radio remote control available separately
Curved drive-on rail, consisting of 2 individual parts, can be loaded up to approx. 370 kg
Front wheel rocker on slide
Loading height adjusted to approx. 620 mm. The motorbike can be pulled a few cm into the springs before loading
Drive-on ramp universally adaptable to other loading heights
Max. Rear tyre width 185 mm. Other tyre widths possible with optional components
Retrofitting possible on a trailer or in a van
Scope of delivery
2-piece drive-on rail
Electric winch with wired remote control, pulley
Slide with front rocker
2 wheel brackets
Rail system for rear garage
Ordering instructions
Please pay attention to the garage and axle load of your camper
Please state your vehicle data when ordering
Further versions on request
Make sure to state the tyre size of your camper.
Request datasheet
Rear garage pull-in for motorbikes