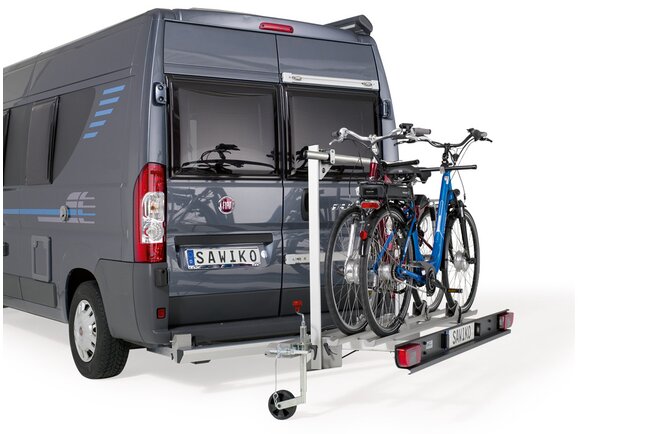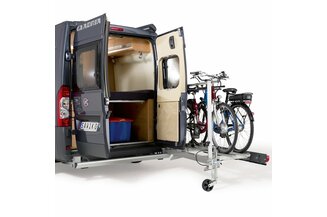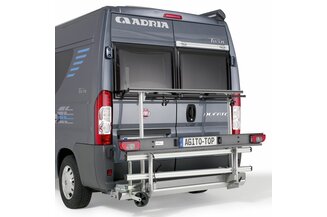 Description
AGITO TOP - swivelling and folding bicycle carrier
To open the rear doors or tailgates completely, the AGITO Top bicycle carrier system can easily be swivelled completely to the side. Even when loaded. To do this, simply loosen the eccentric lock (adjustable) and bring the support wheel (standard) into position. Ideal for unloading chairs or disposing of toilets when needed. The AGITO Top has a foldable transport platform. This allows the bicycle carrier to remain on the van to save space. The AGITO Top is perfectly suited for e-bicycles due to its wide bike rails with our ratchet quick-release fasteners.
Your advantage:
Payload: up to 80 kg
EG type approval available
Swivelling - even when loaded
With folding platform
Made of steel + aluminium
Removable without tools
Incl. Mounting elements for vans
Framework sets:
AGITO Top 2 e-bicycles
AGITO Top 3 bicycles
| Article number | Set-up set | Payload | Weight | Function | Material | Height | Loading depth | Wide |
| --- | --- | --- | --- | --- | --- | --- | --- | --- |
| 1884652 | 2 e-bicycles | 80 kg | 55.2 kg | | | 1240 mm | 570 mm | 1980 mm |
| 1884653 | 3 bicycles | 80 kg | 58.1 kg | | | 1240 mm | 570 mm | 1980 mm |
AGITO TOP - swivelling and folding bicycle carrier
Due to our experience and know-how, we are able to offer you couplings for most European vehicles. Other vehicles can be customised by us or our service partners. Please observe or check the permissible trailer loads of your vehicle (vehicle documents, COC papers). Alternatively, if the vehicle is not included in the papers, a solution can certainly be found in consultation with the TÜV.
In order for us to be able to process your process your enquiry as quickly, correctly and without delay, it is necessary that your information is complete. Base vehicle Camper manufacturer Model/trade name Year of construction Chassis number Supplementary information such as water tank, frame extension available, etc. If any information is missing, we will contact you immediately.
It is an indication of the strength of a towbar. It is calculated according to the following formula: D = G(K) x G(A) x 9.81 G(K) + (A) If G(K) is the permissible total weight of the towing vehicle in tonnes(t) and G(A) is the total weight of the trailer, also in tonnes; e.g. a Fiat Ducato with 3.5 t permissible total weight and a trailer load of 2 t requires a coupling with a minimum D value of: D = 3.5 x 2.0 x 9.81 = 12.50 kN 3.5 + 2.0. However, the actual permissible trailer load depends on the entry under item 28 or O1 in the vehicle documents. Of all the given values, the weakest value is always decisive for approval.
When it comes to campers, there are many factors to consider in order to be able to assess what can be "carried" by the vehicle. Among other things, the general vehicle data such as rear axle load and total weight must be taken into account to determine the payload capacity. It is also important to clarify the load-bearing capacity of the camper chassis and its possible chassis extension.
In many cases, an original chassis (e.g. Fiat/Mercedes/etc.) is too short to build a camper. This is why a frame extension is usually necessary. It supports the rear garage or the entire rear area of the vehicle. Since a rear garage with, for example, a 150 kg payload has significantly lower forces than a 2,000 kg towbar or an additional load-carrier, the frame extension must be reinforced with EC-tested components to create a stable connection. For the installation of a towbar or a load-carrier, the reinforcement of the frame extension with corresponding components is mandatory.
AHK and load-carrier can be combined (use not possible at the same time). Load-carriers can still be used when changing vehicles. Only the vehicle-specific mounts are required. The electric cable set must always be ordered separately (not applicable if a towbar is available).
The X dimension indicates the overhang of the camper body over the standard chassis. When ordering, please state the dimensions entered in the drawing if your vehicle is not listed in our database. (If in doubt, ask us.) If a tank, storage compartment or similar is fitted to your vehicle in the area labelled "Z", please request a separate dimension sheet by telephone.
The permissible load of a motorbike carrier on a camper depends on the permissible rear axle load of the vehicle and the technically permissible load of the carrier. It is also important to know which weights the body manufacturer approves for his vehicles in detail. There are different chassis and frame extensions here, which have different load capacities. The following formula can be used to calculate the possible payload: F(L) = permissible load mass F(HA) = difference between permissible (from vehicle registration certificate) and real/weighted rear axle load A = wheelbase B = effective lever arm of the load mass (for a rough calculation it can be assumed that the centre of gravity of the load is approx. 350 mm behind the end of the vehicle). F(L) = F(HA) x A A + B If you want a higher load than calculated, it may be possible to increase the axle load by adding a superimposed load.
As the user of a load-carrier, you are responsible for the correct securing of the goods being transported. With our universal lashing strap set, optimum load securing is guaranteed for almost every scooter. A scooter is fixed to the handlebar with the help of our holding arm and is thus secured against falling over. Now it can be securely lashed down. For this purpose, wheel brackets are attached to the standard motorbike tub and the tyres are secured with straps. The scooter still has to be pulled tightly into the springs with the tensioning straps. Our load-carriers are equipped with ring eyelets for this purpose. The safe transport of a bicycle or e-bike is ensured with holder bars and wheel trays. Both elements are equipped with comfortable ratchet quick-release fasteners.